The world as we knew it several short months ago has been turned on end with COVID-19. This new era is one marked by overwhelming changes on multiple levels, uncertainty about the future, and a new vocabulary that includes words like "social distancing."
We are also acutely aware of how our connections with others have been affected: Walking down the street, we keep our distance from people we encounter, even those we know. Getting together with family or friends living near or far has been replaced with Zoom dinners and phone calls. Community events and volunteer activities that bring people together and make communities stronger have been put on hold.
As we go about our daily lives, staying connected and acting with kindness will help us navigate this new landscape: Even a smile or "hello" to the person you pass on the other side of the street can go a long way in maintaining the bonds of a community.
The crisis has highlighted how precarious life can be for many in our communities, especially for those living paycheck to paycheck (even before the pandemic). This includes people working multiple jobs and long hours, the young person just starting out in the workforce with a mountain of student debt, a person just getting back on their feet after a health crisis.
If you are in a position to help, consider a donation to a local food pantry or restaurant that is donating meals to those in need. If you are looking for a quilting project, consider purchasing the Connected Hearts Mini Quilt – available as a paper pattern that will be mailed to you, a digital download pattern, or a kit – $5 from each purchase will be donated to the Greater Chicago Food Depository.
In the coming days and weeks stay safe, be well, stay connected, be kind.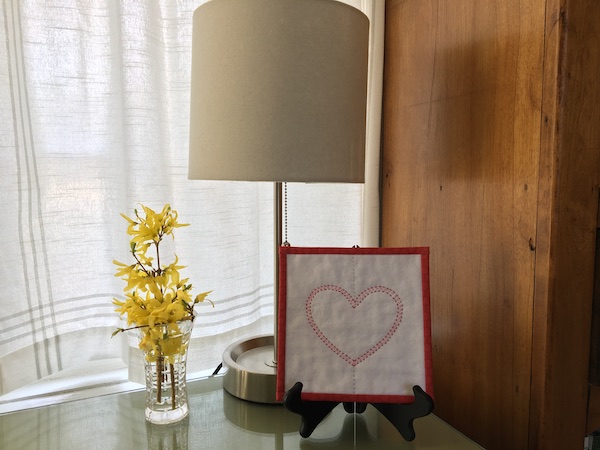 Some ideas for the Connected Hearts Mini Quilt when you have finished quilting it: Mail it to someone you know to let them know you are thinking about them… Hang it up by making a small loop on the back with needle and thread… Display it someplace where you can enjoy by simply cutting a piece of cardboard slightly smaller than the quilt to stabilize it, then prop both on a small easel.